A Brief History of Paisley "D"
The concept of a clothing line was created by Dennis Troy. Back in the mid-1980's, before the whole dinosaur genre came about, Dennis had the idea of an adult line of Paisley Polo Shirts.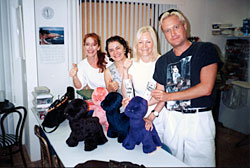 IZOD was extrememly popular at the time, so Dennis wanted to compete against the alligator by putting a dinosaur at the same location. Instead of the IZOD's plain, solid colors, Dennis would combine paisley fabric to the dinosaur, hence the name Paisley Dinosaur.
In 1989, Dennis and I crossed paths. When he realized I had a talent for sketching, he had mentioned the idea to me. I took it upon myself to create a 'baby dinosaur' with a little stumped tail. Instead of coloring him gray, I filled him up with paisleys. Dennis was immediately taken with the idea of creating Paisley Dinosaur into a children's market.
As the logo came to life, Steven Spielberg had just announced his multi-million dollar investment, Jurassic Park. As the creativity was expanding, Barney, The Purple Dinosaur had evolved. My partner and I, with much dismay, felt as if we were beaten to the chase. We shelved our concept, and eventually went in other directions.
In 1994, Barney was on top of the children's market. It was around this time that the whole Paisley Dinosaur project came to life. Living on my own and working full time, I slowly worked on the storybook and brought the characters to life. I developed their adventures for animation. I developed a unique line of learning tools for children's general education. In 1996, I delayed the project for a year due to my marriage. In 1997, thanks to my husband's support, I left my job and worked solely on project Paisley Dinosaur. By 1999, the prototypes of the dinosaurs were finished. I was determined to let the public see the many worlds of Paisley "D"!
For more information please email
Dianne@PaisleyD.com